When you invest in being a purple martin landlord, you really hope the martins will stay for a while. But, exactly how long will that be? You know that they spend part of their time in the United States, but once they arrive at the purple martin house, how long will they actually stay there?
Purple martins stay in their nesting location for an estimated three months. This is dependent on how quickly they form bonds, build nests, and lay their eggs.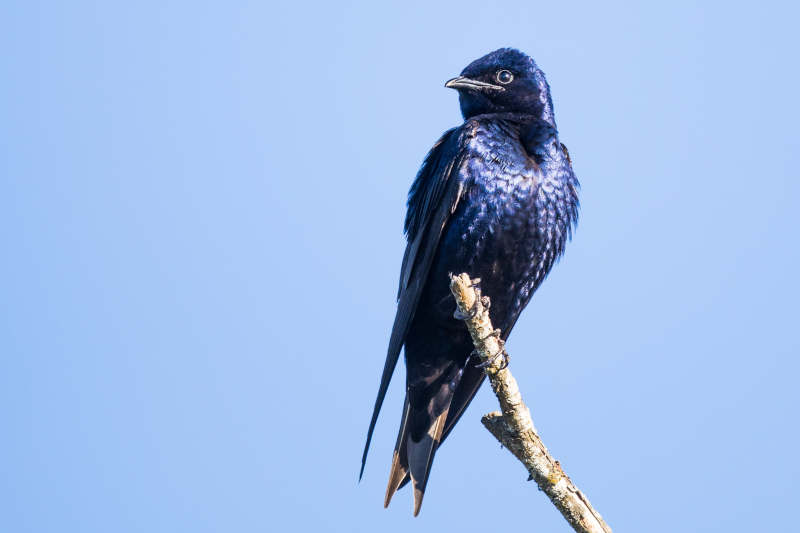 Ultimately, this is dependent on a few factors, but a few months is a good time estimation. Let's look a little bit closer at the steps they may take when they arrive, to when they leave that make up this three months.
Part 1: Pair Forming
Purple martins begin their season when they arrive forming pairs. The older males will arrive first, often known as "scouts" or "ASY" males (after second year). The females and younger males will arrive within a short period of time after. It is during this time that you want to remove any door plugs and at least a few compartments on your purple martin house so that they can move in!
The pair forming may take one to two weeks. You will notice that as the females arrive, they select their most ideal male. The males are often selecting the units of choosing, and trying to make themselves appear as the most eligible bachelor.
It is also during this time that some of the older males may attempt to chase off the younger males. This is a good opportunity for those that have new houses to get their colony started. It is not uncommon for a new colony to begin with younger males that have been chased off by the older ones to new available housing.
Part 2: Nest Building
Once the pairs have been formed, the next part is for both the males and females to begin building their nests. This is actually quite a long process. It may take up to three to four weeks for them to build their nest entirely.
What many landlords do is place a little bit of coarse cedar shavings, pine shavings, or pine needles to help them get their start. Since purple martins are so picky about their housing, some landlords swear that the helpful start helps attract them.
It is highly recommended that during this phase the landlord makes frequent nest checks. You want to ensure no other animals are bothering your purple martins, and that starlings or sparrows aren't trying to takeover the purple martin house units.
Part 3: Lay Eggs
When you begin to see the purple martins placing green leaves into their nest, you are nearing the time for the purple martins to lay their eggs. They will typically lay one per day in the early morning hours. The average amount of eggs is four, but can but up to eight.
This means that generally this process of laying eggs will take right around one week. During this time, you want to watch pretty closely on your purple martins. Watch for any predators and ensure that starlings and house sparrows are not invading the nests, pushing eggs from the birdhouse, or killing martins.
Part 4: Incubation of Eggs
Congratulations! You now know roughly how many purple martins you are adding! Some of these will hopefully return as adults to grow your colony! Your purple martin eggs will take roughly two weeks to hatch.
During this time, it is worth continuing keeping a watchful eye of your martins. Several predators will attempt to eat eggs, including snakes. I usually check on my martins during this phase daily. However, at least every few days is highly recommended.
If you notice any mites or bugs crawling around the nests, consider replacing the nest with a bed of cedar wood shavings. Despite myths, your purple martins will not be bothered by the change. This can be done immediately following the eggs hatching as well.
Part 5: Hatchlings to Fledge
From the time your purple martins are hatched to the time they will fledge will be right around 28 – 32 days.
For the first 18 days or so, you will want to continue your cycle of watching over the martins. After this point, you want to be careful on the nest checks and potentially avoid them all together. You do not want to encourage an early fledge. If the purple martins fledge too early, they will not be able to properly fly and you may end up with some of them on the ground, more susceptible to predators.
Part 6: Post-Fledge
The purple martins may stick around for a day or two after the fledge but they generally will disappear quite quickly. They will most often leave in small groups.
After your purple martins fledge, it is time to clean up the purple martin house and preparing for winter. If you aren't sure the process I wrote an article how to clean up your purple martin house and also how to winterize your martin house too. You want to avoid other types of birds from nesting or roosting in your martin houses. Using door plugs or entirely covering your purple martin house is recommended.